Beaumont Bicycle
HANDMADE • BESPOKE • YOURS
"We need more women frame builders!" said Natalie Ramsland, a framebuilder in Portland, Oregon.
"Yes, we do", I said and here I am building up a business creating a unique product for a market not served well in my opinion. I have the experience and passion to change this. If you're looking for a lightweight, low geared step-through bike that's comfortable and feels great to ride, you've just found the framebuilder to built it!
My Mission: To keep people cycling - especially those whose enthusiasm to cycle has been affected by a reduced range of movement.
My Vision: To deliver a made-to-measure handbuilt lightweight bicycle that suits the rider physically with thought given to where it will be ridden and the purpose for riding. I design around the step-through principle or the traditional diamond form. I also consider easy maintenance and practical accessories to make your Beaumont Bicycle a pleasure to own.
My Values: My experience from working as bicycle mechanic and an occupational therapist over the last 30 years has given me a unique skill set. I understand how an improved sense of well being comes from matching fit, form, function with a consideration for our environment and how things are made.
Elizabeth Beaumont Colebrook BA BSc
Phone
07729 591 479
Email
liz@beaumontbicycle.co.uk
Location
Beaumont Bicycle
Colebatch Farm
Colebatch
Nr Bishops Castle
SY9 5JY
Enjoy this short film expertly created by Jonathan Keeley who also built this website - thanks Jonny.
This elegant step-through won a prize in the 'Outstanding Design' category at this year's Bespoked handbuilt bicycle show in Bristol. Photo: Ben Broomfield.
Actually stepping through the frame requires foot room and consideration for the rider's hip flexion. The frame tubing must be strong enough to counter the 'folding moment' and provide enough torsional stability to minimise lateral twisting. I've mixed Reynolds 853 and 631. The eccentric bottom bracket enables seat tube offset to enhance stability and give even more 'foot room'. The green prototype design shows that the artistic 'pierced' tube isn't necessary but it looks intriguing. The head badge is my own design and represents a beautiful mountain - Beaumont (my middle name).
What I offer...
My workshop is based in an area of outstanding natural beauty - South Shropshire. I have worked with people who ride bicycles all my life and experience has shown me that all decisions regarding 'fit' and 'kit' come from understanding the person, the activity and the bicycle....it's not just about the bike. I always discuss your options and explain my reasoning.
Choose from:
a handbuilt made-to-measure bicycle frame from £1299 (Reynolds 631)
Bike fitting From £75 - a worthwhile hour Spent one to one establishing most appropriate adjustments to optimise your ride experience.
Wheel building - labour £90 for a pair. A widely agreed way to Augment your ride - then ponder on a new frame!
Servicing from £45 (Ask me about my Toolbox scheme)
Teaching bike maintenance - £200 for a 9.30am-4.30pm hands-on teaching session (one to one or a group up to 8)
I have the hard-earned skills to fit, design, build, repair and teach...
"42/28 chainset by Middleburn - they call it a double incy - I call it jewellery".
Louise with her new Beaumont Audax
"Lou needed a handlebar with a shallower drop and a shorter reach plus lower gearing for our Shropshire terrain. Using 725 and the Columbus Hiver fork, I have built a classically lugged fast tourer as well as pair of super strong wheels using DT rims and spokes."
"The Tubus luggage rack and Portland Design Works mudguards complement the look perfectly."
" I wanted Lou to feel really comfy but still sense the excitement from her triathlon days."
Tess's Beaumont 853
A new build on the horizon for a lifelong rider who knows exactly what she wants to ride.
H Plus Son Archetype rims with 140 discs
Keep your wheels light and precisely tensioned and you will notice the difference. Choose a folding tyre for extra performance.
Bernie's 'Poetry in Motion' Beaumont Rohloff
And so the poem continues...
Woodguards made in Cherry by the talented Simon at woodguards.co.uk in Scotland. Beautiful stainless fittings and ivory coloured underside.
Brian's 853 Pro for easy rides when the weather's dry
Marianne's 'Urban and Beyond' Beaumont 631
Sram NX 1x11 with 32 tooth front chainring and 11-42 cassette at the rear. All the gears most commonly used. Lightweight and straightforward.
Anne's 853 Shropshire Special
Photo taken just before Anne arrived with her pedals to collect her new stead. A few technical points: Anne has some arthritis in her hands so there is some Fizik gel under her Fizik bar tape. Nice short and shallow bar from Veloduo and excellent value chainset from Spa Cycles of Harrogate (165mm 42/26). Flinger mudguard with 4mm stays so no shimmy on descents as the hills round here are very enjoyable. Brake levers set up for light action and super reliable stopping power from Avid 140mm rear and 160mm front. Bird cage and bell from Portland Design Works, Oregon. And thank you Jonny Keeley for focusing in with the latest lens and your ever creative eye.
Anne is just over 5 foot and has spent the last 40 years making do with what's out there 'off the peg'. She now has a bicycle made to measure and I am delighted to say she could feel the difference immediately. What a fantastic moment and thank you to Anne's husband Glynn for his passionate belief that Anne would love it.
Karen's 853 Winter Tourer
Karen rides with Team Glow, a network of women cyclists based in and around Greater Manchester. I visited their website and instantly felt welcomed. The group encourages women to get the most from their cycling through mutual support and a 'hey, let's do it' attitude. Have a look at their Meetup page for upcoming events. I'm thrilled Karen will be out riding her Beaumont in style and having fun with such great company.
Look closely and you'll see a small device above the rear mech made by JTek. This enables Karen to use her 11 speed Ultegra road levers together with a Deore XT 11 speed rear mech. The benefit? Comfortable handlebar position for longer rides and gears for any occasion.
The Tito d'Italia
Tito has Parkinson's and finds it difficult to walk BUT when astride a bicycle and he can just pedal off into the distance. Cycling overrides the stutter you see in someone with this condition. Riding a bicycle sets him free albeit temporarily but it is a delicious release nonetheless.
Al's 853 Cross-Country Tourer
Thank you Jonny Keeley for some very nice detailed shots. Click through and you'll come to a photo of Alison's previous black frame. I'm delighted to say she's thrilled with her new frameset and the way it handles.
Julie's Gates Belt-Drive Alfine 11
I handbuilt the wheels with Sapim Strong rear and Sapim race at the front - black brass nipples if you're interested. Tubus racks front and rear are just sublime. The best undoubtably and so light - money well spent. Mudguards are chosen to blend with the H Plus Son Architype rims. Yes, you've guessed it - Gilles Berthoud 50mm.
Pete's future-proof step-through
Pete had an off-the-peg audax bike for years that was always too short in the reach. Finding it increasingly more difficult to mount, he asked me to build him a step-through. You can see the 'cross-strutt' is a bit higher - that gives the build more stability (as the reach is longer) as well as a more european look. Virtually all his original parts were transferred across and the frame is ready for disc brakes and an electric front wheel as soon as Pete wants.
Ros rides with husband Rob with grit and determination. She is usually on a Brompton and he on one of his fleet of vintage or bespoke builds. Both make kind and generous efforts to meet each other's needs hence the name Ros has chosen for her bike "are we nearly there yet?" Now, with some extra power combined with a custom build, Ros has never been more comfortable and able to keep pace with her riding partner. The gearing is 1 x 8 with a 42 front ring and 11-32 cassette. With extra power, the gearing can be higher and the nuances of gearing cadence is not quite as crucial in optimising performance. This brings down the cost of fitting a new chain as required and keeps the handlebar less cluttered. The frame is drilled to take the 2 cable covers neatly concealing the cables. The rear rack was issued with the system and sprayed by Argos Racing Cycles in Bristol. Beautiful paint job and done exactly as Ros wished. Marathon Plus tyres give Ros peace of mind and she is now busy looking for suitable panniers. Note the kickstand attaches to a sliding dropout should she want to move to a hub geared system.
Lydia's City Step-through
Peter's 853 Urban and Beyond
A 60th birthday present for a tall man who has never had a bicycle that fits him properly. All set for a daily commute to work as well as weekend riding further a field with luggage. Handbuilt wheels with double eyeletted rims, Sapim Strong spokes and good ol' Schwalbe Marathons. Busch and Mueller's new IQ-XS front light is powered by an SP dynohub - had to save a little money so as to afford the luxurious Scottish Woodguards made in Cherry with a black laminate underside. GC-1 Ergon grips in Biokork work perfectly with a swept back bar and a swept back bar means the shoulders and arms are more relaxed which they need to be combined with a B67 saddle. Pinhead wheel security and a Hebie 618 kickstand adds extra practicality and peace of mind.
That is to say, it feels effortless so I'll take that as a compliment.
Gordon's 853 Beaumont Audax
Yes folks, those Brooks C17 saddle red rivets are imports! All the way from America but that's the joy of ordering a bespoke bicycle. And yes, we did discuss gearing options at length and this bike needs to feel super familiar so we stayed with ultra lightweight Simplex downtube shifters and a 3 x 8 set up. As it's non-indexed, the mechs just have to function well and cope with thousands of miles - the chosen Microshift mechs are exceedingly well constructed. You can see why they've been popular with cyclocross riders. His wheels are handbuilt 36h 3x with a polished silver SON 28 dynohub and double-eyeletted rims/puncture-resistant tyres. Gordon knows this rim/tyre combo isn't the lightest but it'll give him long service. That's SONs own Edelux II front light - super bright and designed not to flicker at low speeds. Gordon is tall and his previous bike had a traditional horizontal top tube - designing his new frame really tidied up the 'look' with a longer headtube, a slightly sloping top tube and just a fist full of seat pillar showing.
Neil ordered a bespoke semi-step-through for a more upright position, no nonsense gearing and maximum enjoyment when he can get out for a ride.
The Jones handlebar gives him the option of leaning forward or sitting upright. I've therefore paired it with the slightly wider Brooks C19 carved all-weather saddle. The grips are very dense and lightweight also made by Jones, as is the waterproof bar bag. It's important to have the Jones grips so the rider can easily move their hands anywhere along the grip's length. The close-cell construction of the 'foam' has to be felt to be believed - it's incredibly comfortable. The angle of the bar puts the rider's wrists in a very natural position. Get this right and the elbows and shoulders will also feel relaxed. Nice little extras to add an accent of colour as follows: Translucent ruby brake cables, Halo allen key skewers and an Absolute Black RED top cap.
Kate's 631 Stellar Beaumont
Pam's 631 Cambium Express
Pam wanted a bespoke bicycle in this 'military' green with white tyres. She didn't want a traditional diamond frame or a 'step-through' either, so we agreed on a compromise that enabled me to use standard tube sizing. The 1 x 11 gearing is low enough to enjoy going uphill with gravity onside when descending. A bug bear of mine is remembering to pack lights and making sure they're charged up - with an integrated dynamo system that even turns itself on when the sun sets, Pam will never be caught out plus she generates her own lighting power and more room for luggage.
Maggie's 631 Beaumont Audax
Maggie is 5' 0" and for years she'd been riding an Orbit America with 650c wheels (23-571) which was becoming increasingly uncomfortable. With ambitions to ride with Newport Breeze and the end to end, she took some good advice from her niece Ellie who was working at Broken Spoke in Oxford at the time and got in touch. With road conditions worsening, switching to a 650b with wider rims and clearance for mudguards was central to our design plan. An Audax set up was going to suit Maggie best. The crank arms are 160mm, the chainring is a 36t narrow-wide and the rear cassette 11-42. Other nice touches are the A530 pedals which means she can hop on the bike to commute in without having to change her shoes and the mudguards have sociable mudflaps for riding in a group. Under the bar ribbon is a gel underlay to give some cushioning and the tyres are Grand Bois 'Cypress' folders - which float on your palms like magic fish.
Susan's 631 'Esprit de Jim'
This bicycle celebrates a legacy. When I designed this bicycle, I felt I was honouring a very special relationship. This is the bicycle Jim would be delighted Susan is now riding. Built for comfort over long or short distances, built to be practical with on board super bright Busch and Mueller lighting and a rear fitting propstand, brakes that require minimal maintenance but offer plenty of stopping power, 1 x 11 gears for hilly terrain, puncture resistant tyres and a luggage rack for panniers if required. Jim may no longer be with us but his spirit lives on. The colour is Bob Jackson's BOLD green - spot on. For anyone who has worked into retirement with their hands, the thumb joint takes a pounding. Having a quality twist grip makes changing gear much lighter on the smaller hand muscles regardless of weather conditions. The water bottle cage is mounted up front out of the way when mounting and dismounting but fully accessible on the fly!
The Flying Gate Story
This iconic British frame design dates back to the 1930s. Due to changing markets and the increase in mass bicycle manufacturing post WW2, the handbuilt bicycle took a back seat as thousands of people bought off-the-peg bicycles. In the late 1970s, Trevor Jarvis of T.J. Cycles acquired the exclusive patent for this design from its original owners and successfully relaunched the 'Flying Gate'. He has built nye on 600 frames to date and created a following of dedicated riders across the world. Read more...
I built this frame using Reynolds 853 and the customer supplied the groupset. After its first 40 miles, the customer reported back that he's absolutely delighted saying 'it fits like a glove'.
I first encountered this remarkable frame design when I was 20, walking past my local cake shop in Leeds. There against the window was a Flying Gate. I went in and asked the most likely looking cyclist to tell me all about it. With great enthusiasm the young man forsook his place in the queue and regaled me with the marque's history and the frame building brilliance of Trevor Jarvis. Years passed and this chance meeting became a great friendship. Last year, I finally met Trevor Jarvis. Having owned a 'Flying Gate' and demonstrating my passionate depth of knowledge on this classic short wheelbase design, I was delighted that Trevor asked me to start building for him alongside my own framebuilding business.
Flying Gate 'Dovedale Deluxe'
Michael's Classic Triathlon 853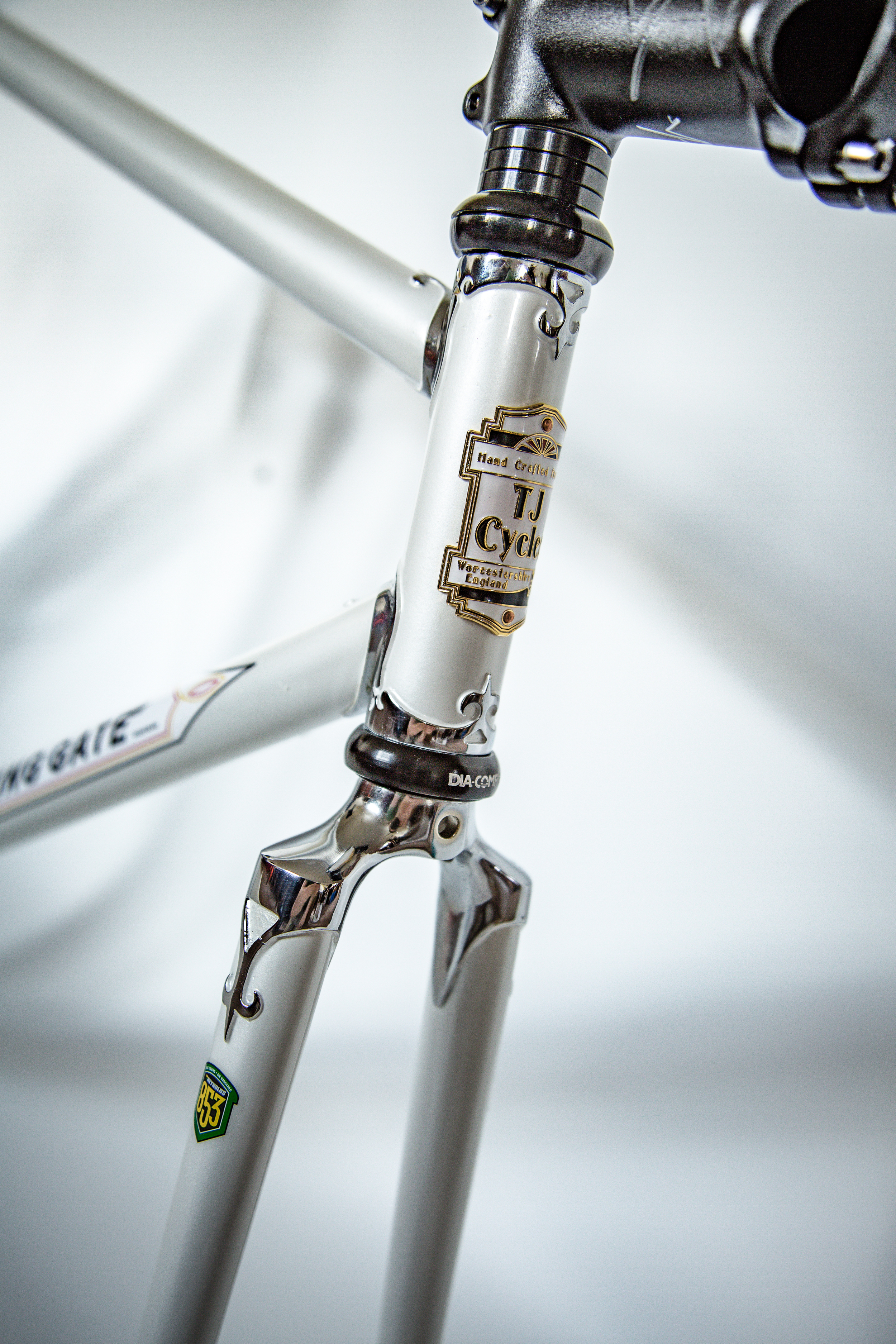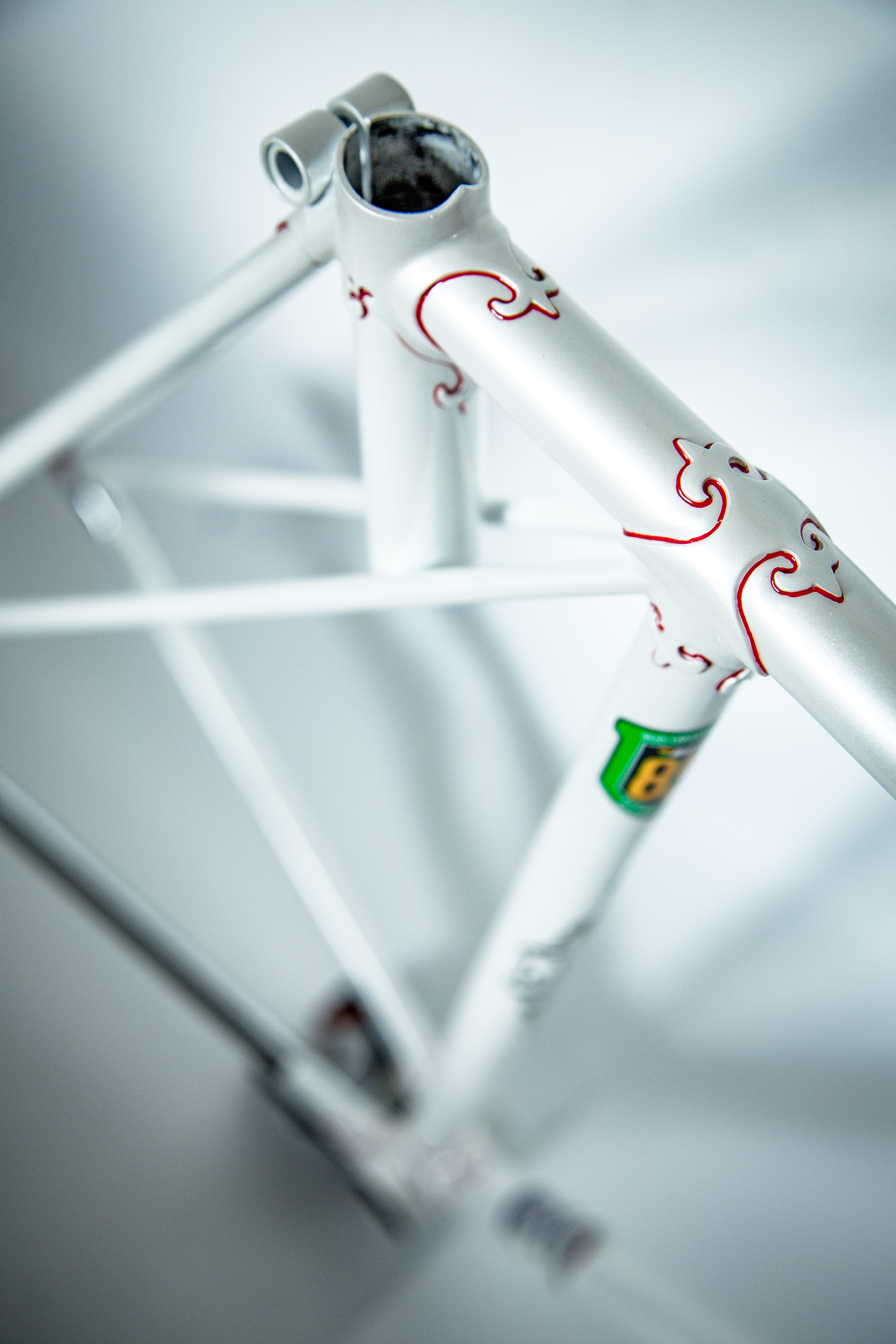 I am extremely proud to announce that Michael has clocked up some personal bests at various high level Triathlon events over in Finland. Congratulations and long may it continue.
William's 853 Flying Gate 'Diana'
Look at the front mech clip - this is our own design (offset 17 degrees) to give you the perfect mounting position. Velo Orange mudguards, mudflap and bar tape. William has lost a little flexibility in his lower back but the bar stem and fairly short and shallow handlebar suit his long distance riding style. The wheels built up beautifully with Sapim CXray spokes on SunXCD large flange hubs. 32h front and 36h rear. 42/28 chainset with classic reliable square taper bottom bracket. That's my saddlebag by the way - notice duster hidden inside with the Mr Sheen (other polishes are available).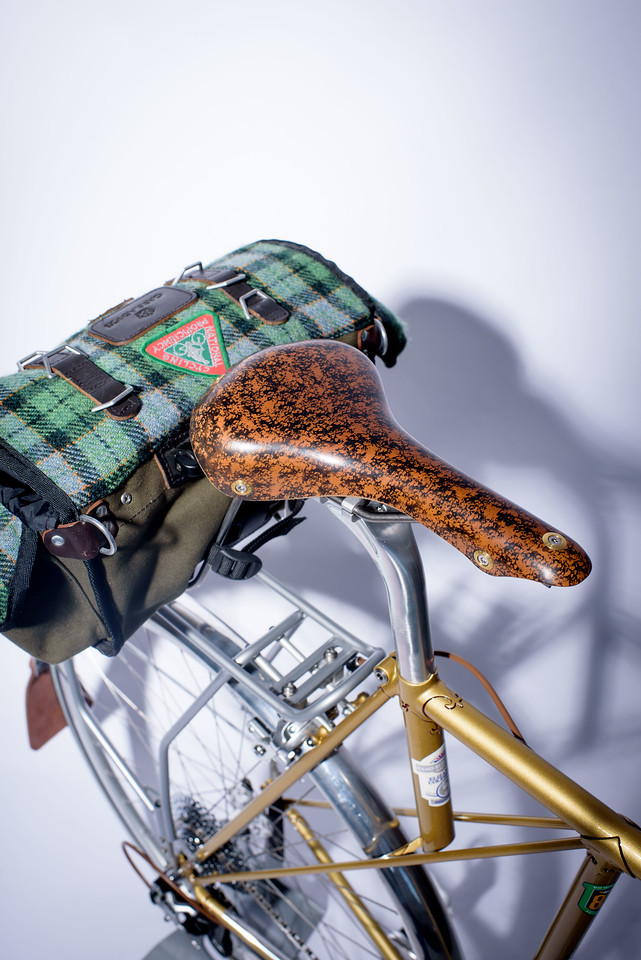 Bob's Flying Gate 'Diana'
Bob will be building up this frame specifically for Audax riding. Paintwork by Bob Jackson Cycles - expertly done - their steady-hand luglining really complements the frame's detail.
I live and work in South Shropshire. I've cycled across Europe, studied at Leeds and Sheffield universities and worked for many years with thriving bicycle emporiums in Manchester, Berlin, Hamburg and Ludlow.
I've also worked as an Occupational Therapist, which has given me additional insight into the ergonomics of bike-fitting. I've been building wheels for over 25 years and I'm delighted to be designing and building made-to-measure steel bicycle frames for my valued customers.
Any questions or comments, I'd love to hear from you.
Liz Colebrook.