Flying Gate owners gather annually to spend a weekend together somewhere in the UK. This year we returned to Burton on Trent. Why? You may well ask. Back in the eighties, this is where Trevor Jarvis built his first Flying Gates and we even took a look at his old workshop...
This was the 19th annual Flying Gate Weekend. Altogether almost 50 of us rode over 3 days what the French call 'etoile randonnees' (day rides out and back from a central base). Friday took us to Rocester (pronounced 'roaster') passed the Joseph Arkwright Mill and the new JCB academy. Saturday took us to the National Memorial Arboretum and Sunday took us to the village of Hanbury where the largest non-nuclear accidental explosion took place in WW2.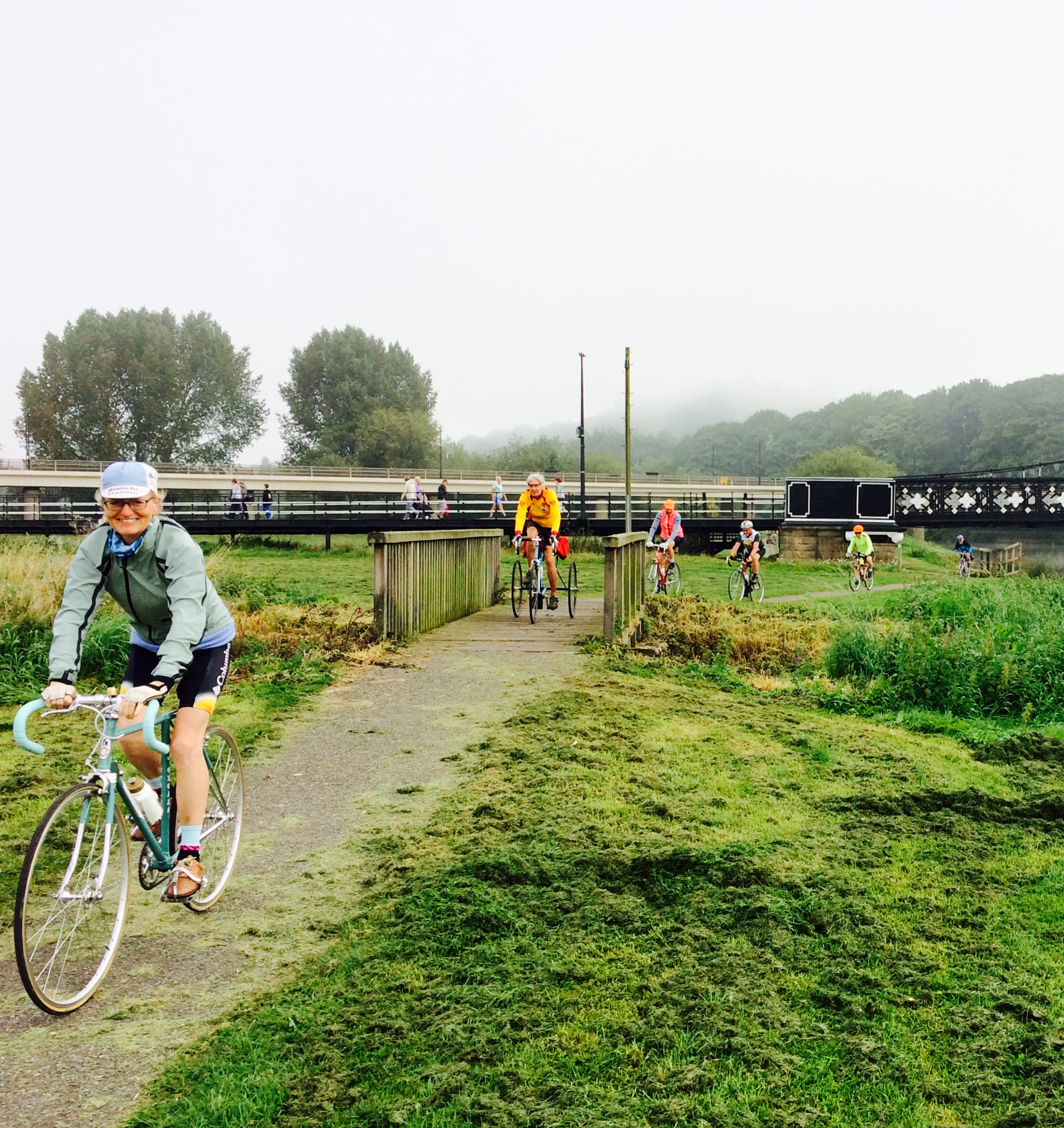 Here we are riding across the Washlands and the Ferry Bridge, then you can see Trevor shaking a leg at the place where the early Flying Gates were stove enamelled (Ordinary wheeled out in honour!). One stroke tractor started with a shot gun cartridge at our cake stop and some photos from the Arboretum - what a place. Finally, with shoe laces all in order, some of us take risks and some of us don't at the 'slippery when wet' cobbled ford.
Thirty five years since the first TJ Cycles jerseys and we are about to launch a new Flying Gate jersey with a retro look in Merino washable wool - more news as it breaks. Trevor has taught Jeremy and myself well as we both displayed our most recent work. Alison braved the 12" deep ford but needed to wring out her socks for some reason.
Ros and Rob Seall gave us a great slide show and talk about their travels in China. I believe this part of the weekend subliminally inspires some of us to get out there and explore.
Meanwhile, next year we will be in Norfolk...
Did you want to see what's happened to Trevor's old workshop in Burton?